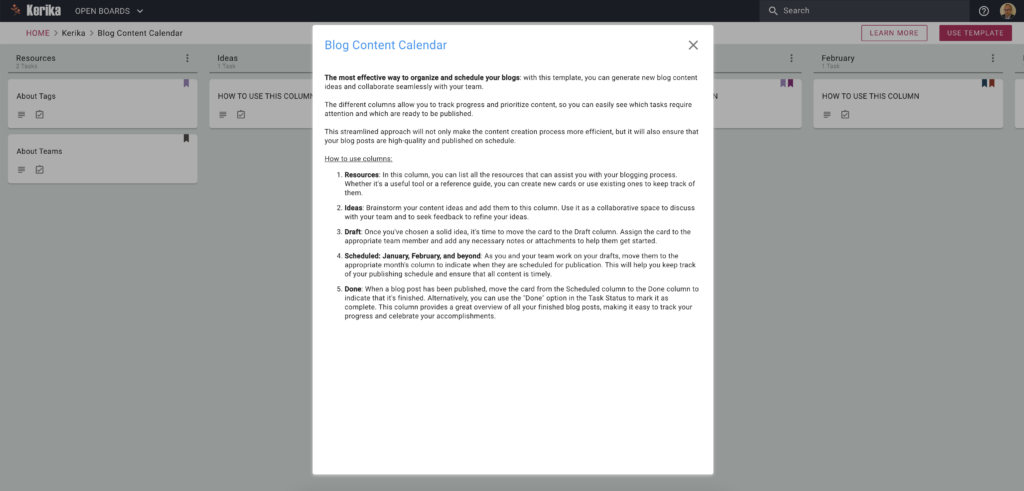 The most effective way to organize and schedule your blogs
:
with this template
, you can generate new blog content ideas and collaborate seamlessly with your team.
The different columns allow you to track progress and prioritize content, so you can easily see which tasks require attention and which are ready to be published.
This streamlined approach will not only make the content creation process more efficient, but it will also ensure that your blog posts are high-quality and published on schedule.
How to use columns:
Resources: In this column, you can list all the resources that can assist you with your blogging process. Whether it's a useful tool or a reference guide, you can create new cards or use existing ones to keep track of them.
Ideas: Brainstorm your content ideas and add them to this column. Use it as a collaborative space to discuss with your team and to seek feedback to refine your ideas.
Draft: Once you've chosen a solid idea, it's time to move the card to the Draft column. Assign the card to the appropriate team member and add any necessary notes or attachments to help them get started.
Scheduled: January, February, and beyond: As you and your team work on your drafts, move them to the appropriate month's column to indicate when they are scheduled for publication. This will help you keep track of your publishing schedule and ensure that all content is timely.
Done: When a blog post has been published, move the card from the Scheduled column to the Done column to indicate that it's finished. Alternatively, you can use the "Done" option in the Task Status to mark it as complete. This column provides a great overview of all your finished blog posts, making it easy to track your progress and celebrate your accomplishments.