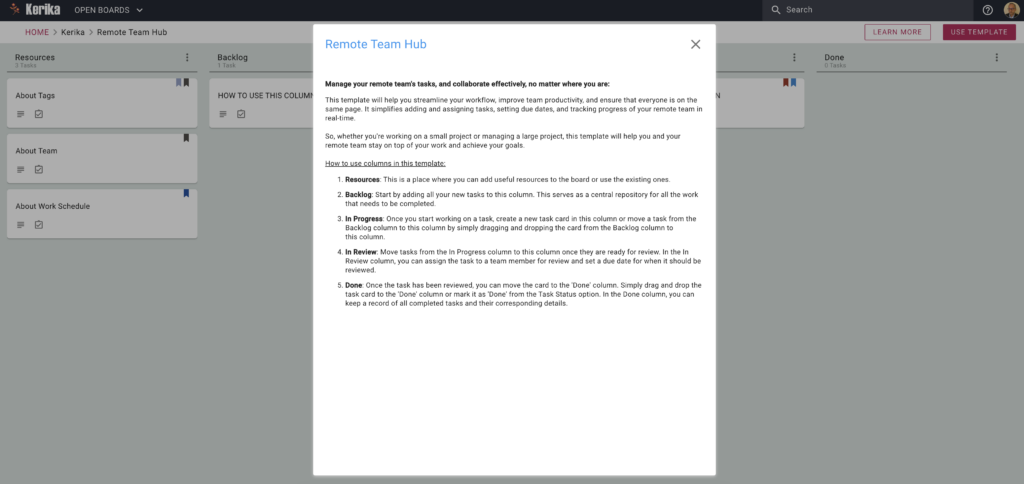 Kerika has a free Template for setting up a Remote Team Hub
Manage your remote team's tasks, and collaborate effectively, no matter where you are:
This template will help you streamline your workflow, improve team productivity, and ensure that everyone is on the same page. It simplifies adding and assigning tasks, setting due dates, and tracking progress of your remote team in real-time.
So, whether you're working on a small project or managing a large project, this template will help you and your remote team stay on top of your work and achieve your goals.
How to use columns in this template:
Resources: This is a place where you can add useful resources to the board or use the existing ones.
Backlog: Start by adding all your new tasks to this column. This serves as a central repository for all the work that needs to be completed.
In Progress: Once you start working on a task, create a new task card in this column or move a task from the Backlog column to this column by simply dragging and dropping the card from the Backlog column to this column.
In Review: Move tasks from the In Progress column to this column once they are ready for review. In the In Review column, you can assign the task to a team member for review and set a due date for when it should be reviewed.
Done: Once the task has been reviewed, you can move the card to the 'Done' column. Simply drag and drop the task card to the 'Done' column or mark it as 'Done' from the Task Status option. In the Done column, you can keep a record of all completed tasks and their corresponding details.