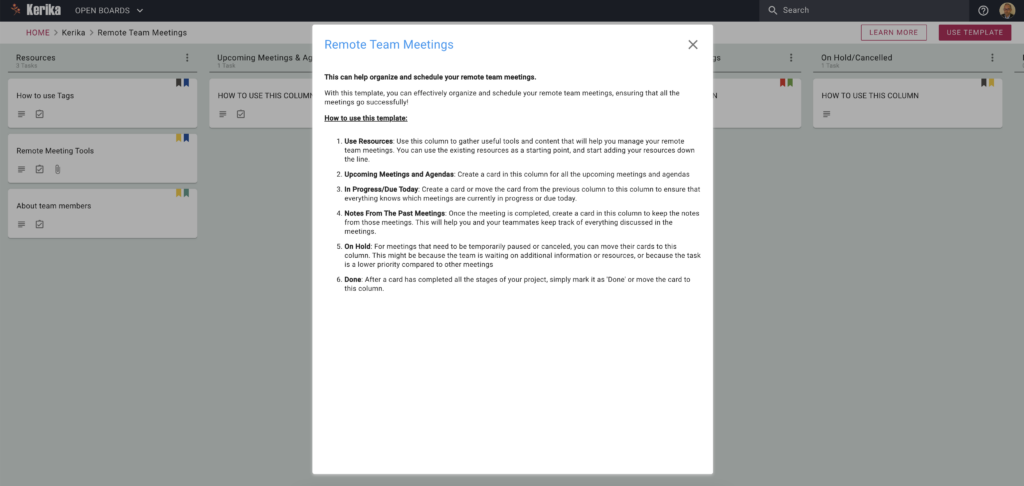 This template can help organize and schedule your remote team meetings. 
With this template, you can effectively organize and schedule your remote team meetings, ensuring that all the meetings go successfully!
How to use this template:
Use Resources: Use this column to gather useful tools and content that will help you manage your remote team meetings. You can use the existing resources as a starting point, and start adding your resources down the line.
Upcoming Meetings and Agendas: Create a card in this column for all the upcoming meetings and agendas
In Progress/Due Today: Create a card or move the card from the previous column to this column to ensure that everything knows which meetings are currently in progress or due today.
Notes From The Past Meetings: Once the meeting is completed, create a card in this column to keep the notes from those meetings. This will help you and your teammates keep track of everything discussed in the meetings.
On Hold: For meetings that need to be temporarily paused or canceled, you can move their cards to this column. This might be because the team is waiting on additional information or resources, or because the task is a lower priority compared to other meetings
Done: After a card has completed all the stages of your project, simply mark it as 'Done' or move the card to this column.