Eleven months ago, somewhat bemused by the surprising number and variety of LinkedIn endorsements I was getting, I wrote a blog post graphing the "long tail" of these endorsements:
At that time, I was astonished to find that I had a total of 251 endorsements across 35 categories of skills!
I was fairly certain I had maxed out, and was sure that the entire practice of LinkedIn endorsements would die out altogether since I felt the currency had become already become devalued: LinkedIn was aggressively suggesting endorsements to all users, pretty much every time they logged into the site, and this was creating an inflationary bubble.
So, 11 months later, what does the picture look like?
What had previously seemed an unrealistic set of numbers (251 endorsements across 35 categories), is now 411 endorsements across 50 categories.
The tail is even longer, as you can see: 10 categories where I have 1 endorsement only in each category, and 15 categories where I have just 2 endorsements each.
Last year, the top 5 categories represented 55% of all my endorsements; this year, the top 5 categories represent 50% of all my endorsements — more proof that the tail is flattening and lengthening.
And in my previous post, I had argued that LinkedIn was hair-splitting: too many categories sounded like they were the same.
This year, the effect seems even more pronounced; here are categories that I would recommend be collapsed together to provide a more coherent picture of a person's skills:
Entrepreneurship, Board of Directors, Board of Directors Experience (really?), Startups together as "Entrepreneurship", because all of that relates to the startup world.
Cloud Computing, Scalability, SaaS together as "Cloud" because all that relates to, well, cloud.
Online Marketing, Go-to-market Strategy, Competitive Analysis, SEO, Product Management: all this is part of "Marketing".
Program Management, Project Management, Software Project Management, IT Management, PMO, SDLC together as "Program Management".
Strategy, Strategic Planning, Management Consulting, Consulting together as Strategy.
Enterprise Software, Integration, Outsourcing together under something I would prefer to call "Big Company IT".
Management, Executive Management, Team Leadership, Cross-functional Team Leadership, Leadership, Communication Skills all are part of "Leadership".
Business Process, Process Improvement and Business Process Automation could be just "Business Processes".
Analytics and Business Intelligence could be together.
Acquisitions and Mergers & Acquisitions should certainly be together!
If I normalized this data, it would look like this: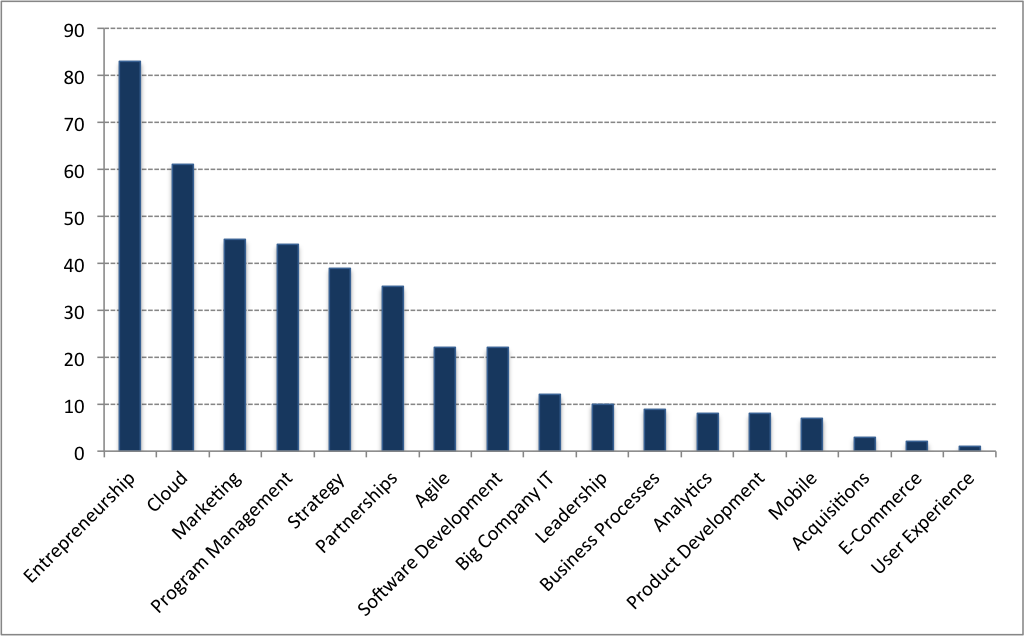 Now my top 5 categories account for 66% of all my endorsements, which would give you a much sense of my skills!
Maybe I should award myself an extra endorsement for "Analytics"?