To succeed on social media, you need to create content that people will find interesting and engaging. But making good content takes a lot of time and effort, and a great workflow can make all the difference.  A workflow helps you be more efficient and make sure everything you're doing is in the right order, and that you're not overlooking anything important.
Kerika can get you started in seconds with a great workflow for managing your social media content.
Let us show you how you can use this template to create content that connects with your audience and helps you grow your business or personal brand.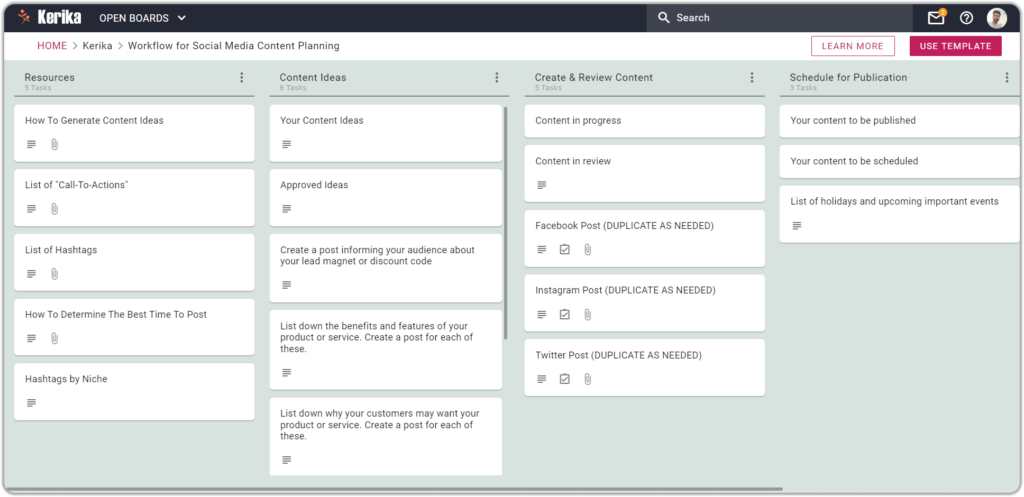 Click to view a template you can use for free
This template organizes your workflow using cards and columns. Each column represents a different step in the workflow starting with Resources on the left edge of the board, and ending with Done on the right edge.
Let's learn how you can use these columns for your Social Media content creation process: 
Resources: If you want to create content quickly, you need to make sure your resources are easily available. This might include things like pictures, videos, or documents.
You can add more resources in this column too by creating a new card or adding more information to the existing cards. By taking the time to build resources, you'll create quality content easily and quickly.
Content Ideas: While creating content for your social media channels, you may struggle to come up with new ideas. A good solution for this problem is to have a list of ideas you can work on anytime.
This is why this column is useful to list down your content ideas, discuss them with your team, and see which content idea is the best to go ahead with.
Create & Review Content: The success of your content depends on how well you manage and review it before posting, and this column is to manage your social media content and review it before posting.
You can mark your content as READY, IN PROGRESS, NEEDS REVIEW, and more. The status flags help to keep everyone on the same page, especially folks who may be working remotely.
Schedule for Publication: You want to use the best time to post so that you can get the most engagement from your audience. You also want to be able to track when you are publishing and scheduling your posts.

Use this column to schedule when you will post your content on social media. By planning the timing of your content's release, you can increase its visibility and performance.
Best Practices of Great Teams
If you are working just by yourself, you are ready to go. But if you are working for an agency or the Marketing department of a company, there will be others you need to get involved in this project.
Set up your Team Members
Kerika makes it really easy to organize your team: if there are people who will be actively involved in the video production, e.g. photographers or content writers, add them as Team Members on this board.
They will be able to make changes to this board in real-time, as they get their pieces ready, and everything that they do will be instantly accessible to everyone else that's on this board's team.
Set up your Visitors
There are often people who need to be informed but aren't necessarily going to contribute in an active way. For example, there may be a product owner who needs to keep track of videos that are relevant to their product, or a senior manager who wants to be kept in the loop.
Add these stakeholders as Visitors to this board team: they will always have a real-time view of what's going on, but they won't be able to move any cards or make any changes (in other words, mess up with your careful workflow!) and you won't have to keep giving status reports. That's a double-win.
Oh, and Visitors are always free. So let's call that a triple-win.
Understand the Workflow
In a Kerika board, every column represents a particular stage in a workflow, and every card represents a specific task (e.g. a video that needs to be produced).
Start at the top-left:
Open the first card in the first column
Read the instructions inside
Check out any resources that are attached to the card
Take action.
Some tasks are best handled by you, and others should clearly be handed off to coworkers.
Update the cards as work gets done
A card can be assigned to one or more people, and this can change throughout the course of the project: something is initially assigned to you and then gets handed off to someone else.
As cards get worked upon, update the status of each card: start with READY, then IN PROGRESS, and so on.  This makes it easy for everyone to always have a clear idea of where things stand.
Set due dates. This will help you make sure nothing slips.
Use Kerika's chat instead of email: this will keep your communications quick and focused.
Move cards along the columns as the work progresses.
Get to Done
The team's goal is to get all your cards all the way over to Done, on the right end of the board.
Sometimes things that were initiated need to be discarded: maybe something turns out to be a bad idea? In that case, the card should be moved to the Trash column. (If you change your mind later, you can always retrieve items from the Trash.)

Start with Resources
The Resources column, which is the leftmost column in this template, contains five cards: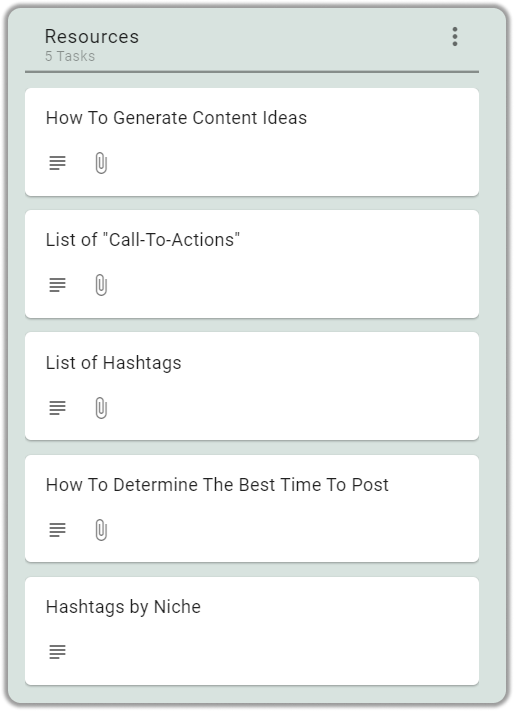 How To Generate Content Ideas: If you're struggling to create interesting and compelling content, this card has some useful tips and insights to help you overcome this challenge.You will also find articles and videos about how to make a good post and learn how to create engaging content that captures the attention of your audience.
List of "Call-To-Actions: CTAs, or calls to action, are important in social media posts because they help guide your audience towards taking a specific action, such as signing up for a newsletter, visiting a website, or making a purchase.In this card, you can find useful articles, videos, and some great examples of CTAs that will help you get started!
List of Hashtags: Hashtags are a great way to help your audience find your posts on social media. They are also used to create a community around a topic or event.In this card, you will find useful articles, and videos, that will help you find relevant hashtags! You can also use this card to list down your hashtags for later use.
Hashtags by Niche: To help you get started with hashtags, we have listed some of the most useful hashtags in this card. Please feel free to use relevant hashtags in your social media posts and increase the chances of your posts being seen by your audience.
Generate Content Ideas
The Content Ideas column, the second in this template, contains five cards: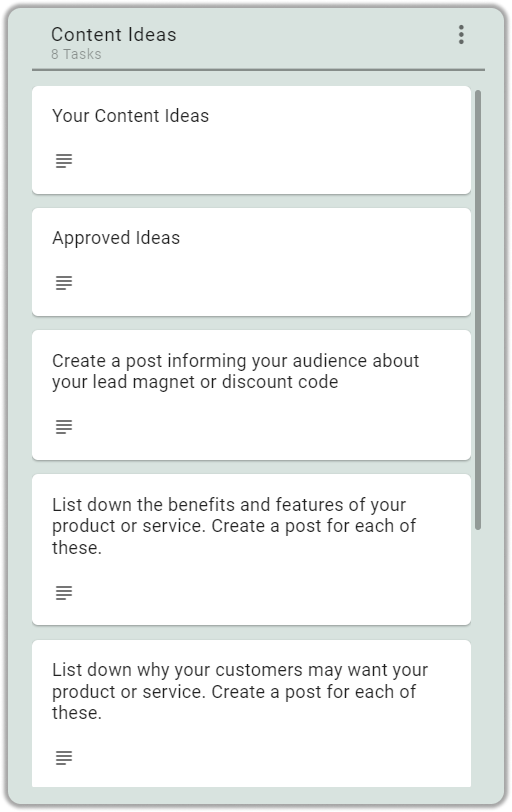 Your Content Ideas: Coming up with content ideas is a time-consuming process. That is why it is important to list down whenever you come across a good content idea.In this card, you can list all of your content ideas. And when it's time to create content, you can simply open this card and pick the idea you like.
This will help you avoid feeling stressed out about trying to come up with something to create on the spot.
Approved Content Ideas: Sometimes, before you can share something online, you need to make sure it's okay with your boss or the copyright team to make sure everything is legal.
In that case, you can list your approved ideas in this separate card.
Tips for post: It's important to know what kind of post to create because different types of posts can have different effects on your audience. For example, a lead magnet post will attract more new visitors and customers.
This card will help you identify the type of content that will be most beneficial to your business.
Create & Review Content
The Create & Review Content column, which is the third column in this template, contains eight cards: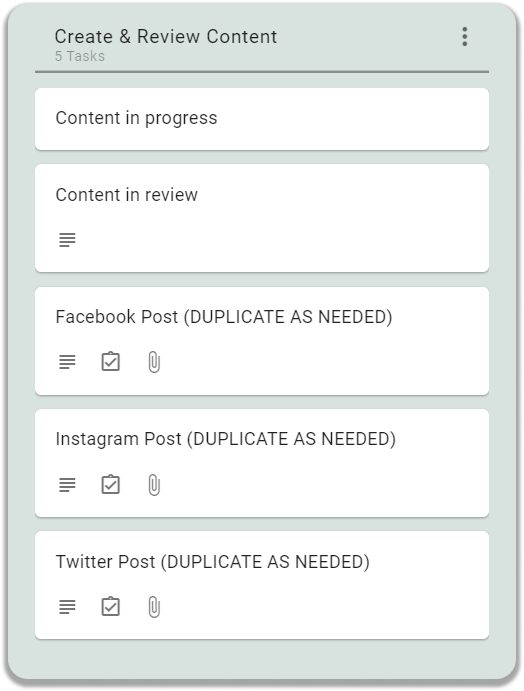 Social Media Guidelines, Policies, and Community Standards card: When you use social media platforms to promote your business, it's important to follow their rules, also known as "community guidelines."
You have to follow these community guidelines to avoid getting into trouble or getting banned from their platforms.This card has some main key points and useful links for you to keep in mind while posting on social media platforms.
Why is it important to review content?: It's important to review your content before publishing it on social media for the quality and integrity of your social media presence.In this card, you will learn the importance of reviewing your content to help you be careful while publishing your content.
Facebook Post Template, Instagram Post Template, and Twitter Post Template cards: These three cards offer very useful templates to create posts for their respective social media platforms.

These templates are useful for social media posts for several reasons. They can save time, provide inspiration, overcome creative blocks, maintain a consistent brand image, and create professional-looking posts.
(Example) Facebook Post For Christmas, (Example) Instagram Post for Black Friday, and (Example) Twitter Post for Father's Day card: These cards are great examples of how you can create social media posts using each template. Open these cards to see how we're using these templates to create social media posts for Christmas, Black Friday, and Father's Day.
Schedule for Publication
The 'Schedule for Publication' Content column, which is the fourth column in this template, contains two cards: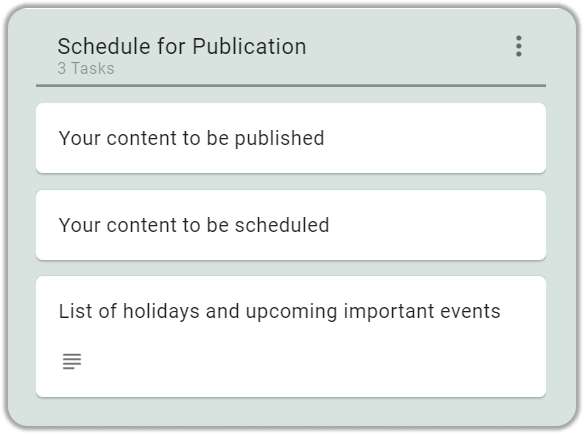 How To Determine The Best Time To Post card: When you share things on social media, you want as many people as possible to see them. One way to make sure more people see your posts is to share them when lots of people are online and using social media.
In this card, you will find an article and a video that can help to decide which time is for you to schedule and post your content.
List of holidays and upcoming important events card: Holidays and events can provide a great opportunity to connect with your audience and create a sense of community. By creating posts that relate to these events, you can show that you are in tune with their interests and values.
You can refer to this card whenever you are wondering when the next important public holiday or event is.
This card will make sure you don't miss them.
Like what you just read?
Here's the template: just one click, one the USE TEMPLATE button, will set you up with a new Kerika account and your first board, in just seconds.
You can try everything free, with your entire team, for 30 days.