We have upgraded the SSL certificate, used to secure your browser's connection to kerika.com, from SHA-1 to SHA-2.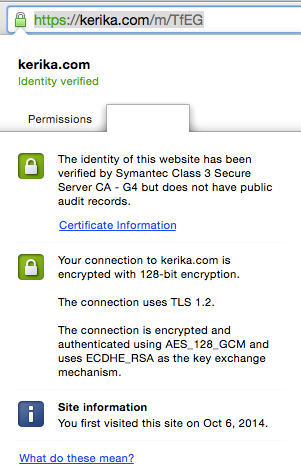 (SHA-2 is a cryptographic hashing algorithm developed by the National Institute of Standards and Technology (NIST) to replace SHA-1.)
This puts Kerika ahead of moves that Google and Microsoft will soon take, for the Chrome and Internet Explorer browsers, respectively, that will start showing warning signs when you visit a website that uses the older SHA-1 certificates.
If you are not sure whether your favorite secure site has upgraded to SHA-2, Symantec has a helpful tool you can use: