We updated Kerika today with a great new Search feature that lets you find anything you want, across every card, canvas and project board, across your entire Kerika world!
There's a short (1:13) video to our YouTube channel that provides a good overview:
Search works across your entire Kerika world: every project board and template to which you have access. This includes projects where you are part of the team, of course, but it also includes public projects created by other folks, like the Foundation for Common Good in the UK, and the transnational WIKISPEED project.
Basic Search will work for most people, most of the time, but we have also built a very powerful Advanced Search feature that lets you zoom in any card on any board or template, using a variety of criteria.
Here's an example of Basic Search: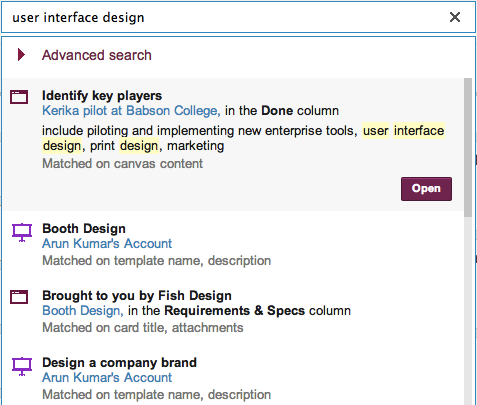 The most likely (top-ranked) item is shown at the top of the list, and is automatically selected so that you can quickly go to it if you are feeling lucky 😉
For each item that matched your search, Kerika provides a ton of useful metadata:
It tells you the name of the card, project or template that matched. (In the example above, it is Identify key players.)
If the match was on a card, it tells you the name of the project (or template) board on which the card is located, and the name of the column where the card is located. (In the example above, it is Kerika pilot at Babson College.)

It shows a small snippet of the search match, so you can decide whether it is what you were looking for.
It even tells you what attribute (aspect) of the card matched your search. (In the example above, the card matched on some text within a canvas that was attached to the card.)
If you want to really zoom in on a particular piece of information, use the Advanced Search feature: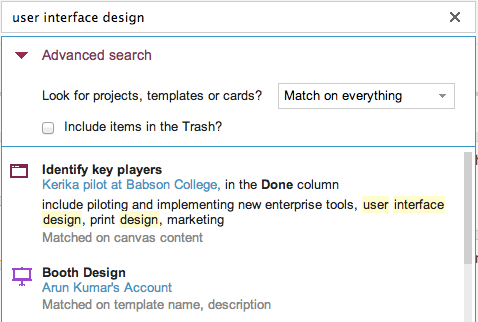 The first step towards zooming in is to narrow your search, by focusing on project names, template names, or individual cards:
Accessing Advanced Search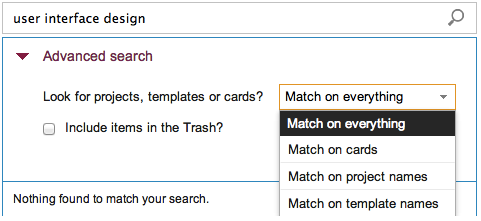 If you are searching for specific cards, you can further narrow your search to focus on titles, descriptions, chat, attachments, people, status, color, and tags: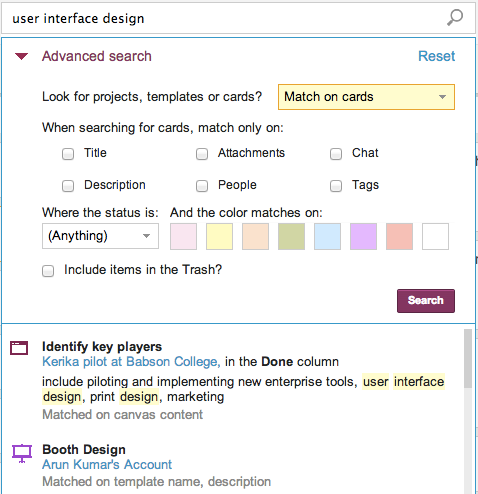 Searching by different aspects (or facets) can give very different results, as this composite of three searches shows (click on image to enlarge):
Other options include searching by people; here, for example, we are trying to find all the cards that are assigned to a specific person: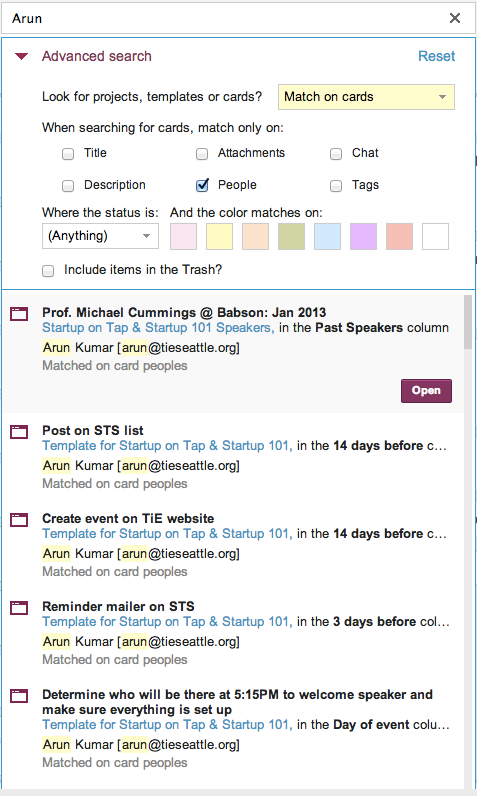 Any combination of facets is possible: for example, you could search for all cards assigned to someone that are waiting for review.
So, that's Search in Kerika, the only task board designed specially for distributed teams!