Most users work on private projects: i.e. projects that are accessible only to people added to the project team.
But some folks find it useful to have their projects viewable by everyone, typically because they are working on nonprofit causes, like WIKISPEED.
WIKISPEED publicizes its projects because it helps attract new volunteers to their cause, and this is actually a pretty smart way for nonprofits to showcase their work.
Kerika has always had an option for people to have all their projects made viewable by the public, but even nonprofits, for example, may have some Kerika boards that they don't want to share with the rest of the world.
Well, with our newest release, it is possible for the Project Leader (or Account Owner) to make individual projects open to the public to view.
A project can be easily switched from Private to Public, and back again, using the Project Info button that's available on the top-right of every Kerika board: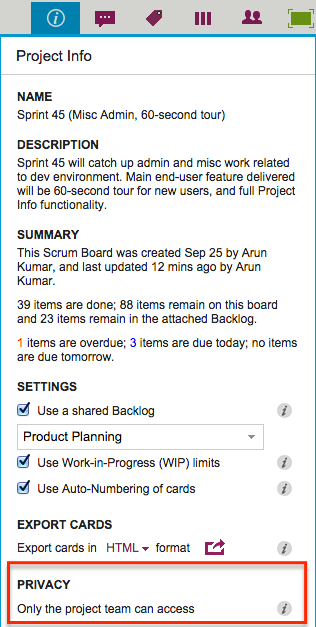 The privacy choices are as follows:
Only the project team can access: this is the default setting, and it means that unless people are added to the project team, they won't be able to view it — or even find it using the Search function.
Anyone, anywhere can view: this means the project is "public" — it can be found through search, and anyone who knows the URL of the project can view it. (But, they still won't be able to make changes.)
When a project is made Public, all the documents contained within it — on all the cards and canvases that make up that board — are also made viewable to the public.
This means, for example, that if your Kerika+Google Whiteboard or Task Board is made available to the public, all the documents in that board's Google Docs folder are also made viewable by the public.
(And Google indexes all public Google Docs, the project could be found in more than one way, depending upon who is searching for it.)
One caveat: users of premium Google Apps, e.g. Google Apps for Business, cannot make their projects open to the public, because of limitations imposed by Google.