If you purchase subscriptions, or do other actions like request a refund, Kerika prompts you to update your Billing Information: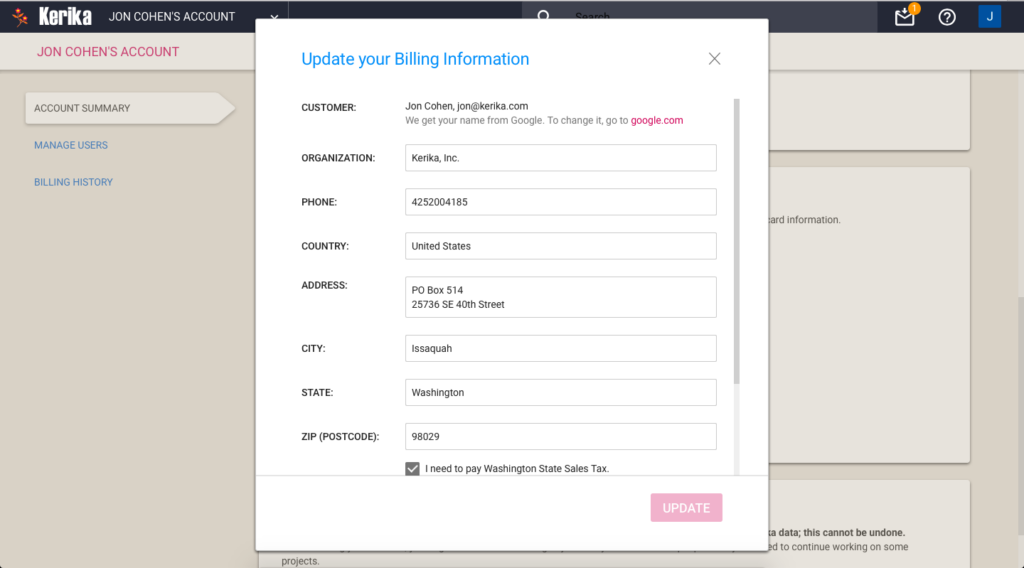 This information is needed to complete a transaction:
Your name or organization (school, college, nonprofit, company, government agency…) are used to ensure invoices and receipts are addressed to the correct person (the purchaser).
Your phone number is needed to handle any problems we face processing your invoices or purchases.
Your address is used to create invoices and receipts, and to check whether we need to charge you Washington State sales tax.
At the bottom of this screen you can optionally include Billing Contacts: people who need to get copies of all your transactions, such as your organization's Purchasing Department or outside accountants/bookkeepers.
We store this information securely: as you may have already noticed, all access to Kerika servers is done using SSL/HTTPS, and within the Kerika virtual network, our servers communicate with each other using SSL as well.
We never ask for your credit card information: we use Stripe to handle all online payments, and we never see your credit card at any time.
If you pay by bank check or electronic funds transfer, this information is handled by Bank of America:  details of these transactions, such as your bank information, are stored only at Bank of America and not stored on the Kerika servers.