At long last, we have built Views — one of the most commonly requested features, and something that we had been obsessively designing and redesigning over years, trying to figure out the best way to handle this need.
We have done it now. Views has been built, and is automatically available across all your Task Boards and Scrum Boards, whether they are owned by you or shared with you.
We are starting off with four standard Views, and we will built more in the future, and add a way for you to build your own Views as well.
The Views we have built are:
What's Assigned To Me
The most commonly asked for feature by people who are working on several projects — and, hence, several boards — at the same time.  This is what it looks like: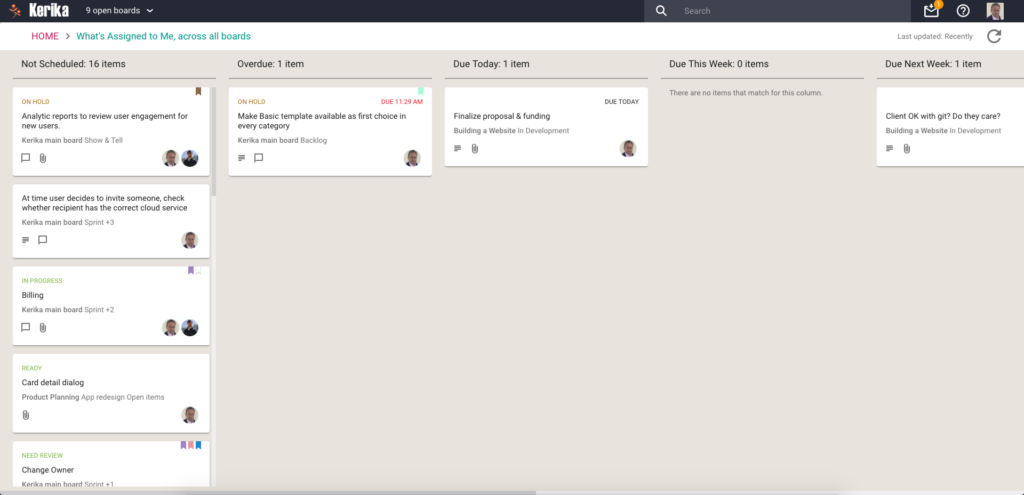 Everything that's currently assigned to, on all boards except for those that are in the Trash or Archive, are collected for you into a single View, where cards are organized as follows:
Not Scheduled
Overdue
Due Today
Due This Week (excluding what's already included in Due Today)
Due Next Week
Due This Month (excluding what's already included in Due Today and Due This Week)
Due This Quarter
Due Next Quarter
It is a comprehensive summary of everything you need to get done, and it will be invaluable for managers and anyone else who has to work on multiple projects at the same time.
If you select a card in a View, like this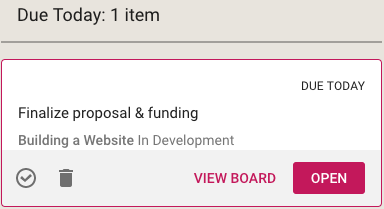 You get quick access to key actions:
Move to Done
Move to Trash
View Board
Open
Open opens the card right there, inside the View itself.  View Board, on the other hand, opens the card in the board in which it is located.
Both are useful, depending upon the card and what you want to do: in some cases you just need to update a particular card — e.g. reschedule it, add a comment or file — and opening the card in the View itself, which is very fast, is enough.
In other situations you might want to be sure you are understanding the context of the card, and it is better to see where it is on the board that contains it.  This can be helpful for cards that you are not quite sure about.
What's Due
This View will be particularly helpful to managers (Board Admins): it summarizes everything that's due, on all boards where you are one of the Board Admins: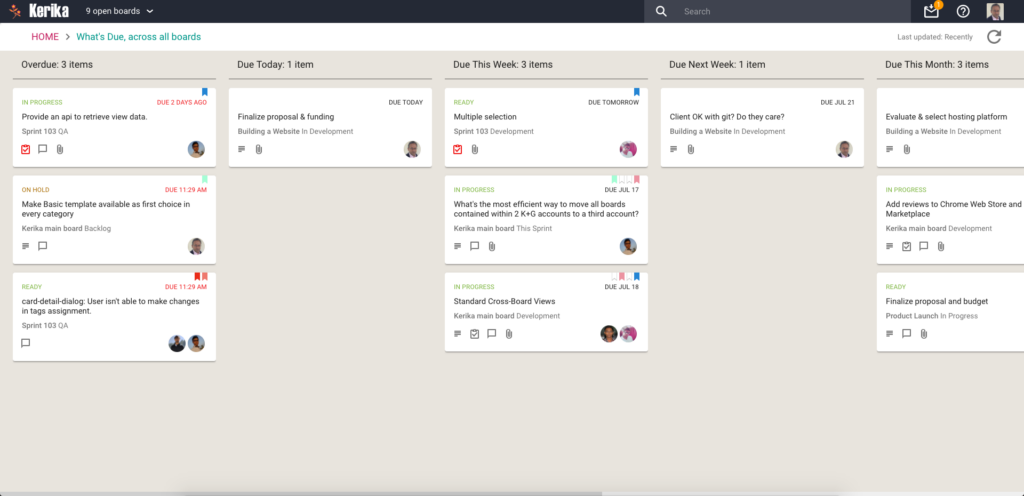 Cards are organized for you as follows:
Overdue
Due Today
Due This Week (excluding what's already shown as Due Today)
Due Next Week
Due This Month
Due Next Month
For this View, as with the What's Assigned to Me View, we try to be smart about not showing duplicate cards: if something is due today, for example, it will show up in the Due Today column, but not get duplicated in the Due This Week or Due This Month column.
This makes it easier for you to plan your schedule: you can see what needs to get right away, and what needs to get done later.
What Needs Attention
Again, a View that will be of particular interest to managers concerned with several ongoing boards: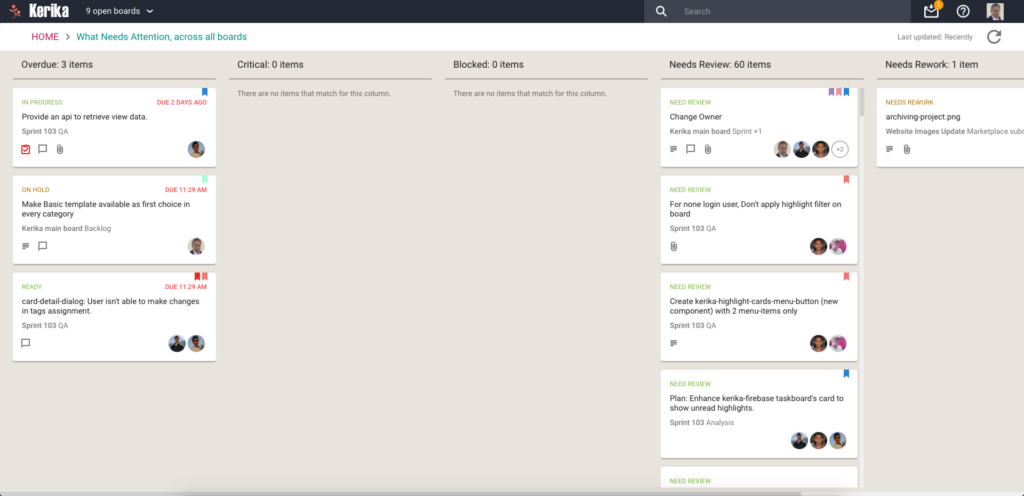 Here, Kerika tries to show everything that needs a little extra attention: things that are
Overdue
Flagged as Critical
Flagged as Blocked
Flagged as Needs Review
Flagged as Needs Rework
Flagged as being On Hold
These items typically represent your risk profile across all your boards, and Kerika brings it all together in a single View.
What Got Done
Great for anyone who needs to produce a status report, or any manager who needs to monitor progress across many different projects: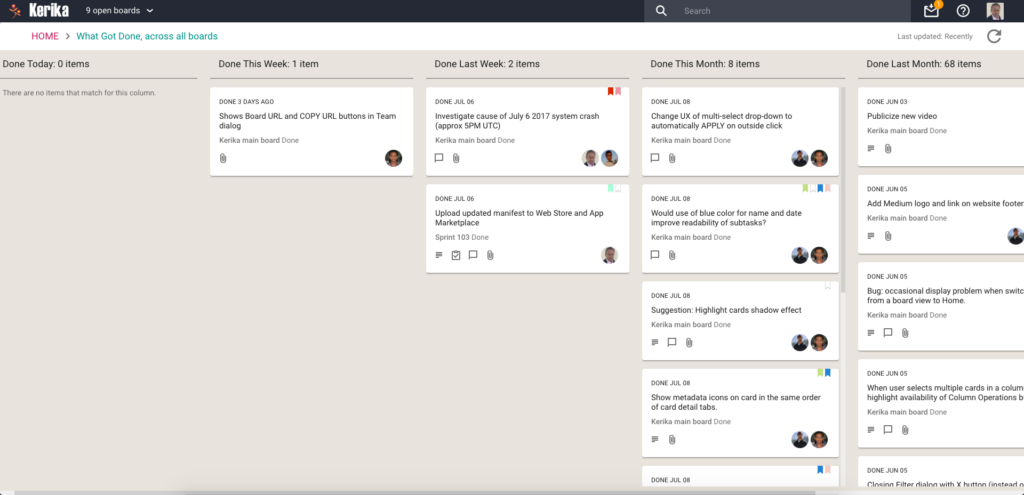 Across all boards where you are a Board Admin, this View summarizes
What got done Today
What got done This Week (excluding items shown in This Week)
What got done Last Week
What got done This Month (again, excluding items shown for Today and This Week)
What got done Last Month
What got done This Quarter
Accessing Views:
All your Views can be accessed from a new tab called Views (naturally) on your Home Page: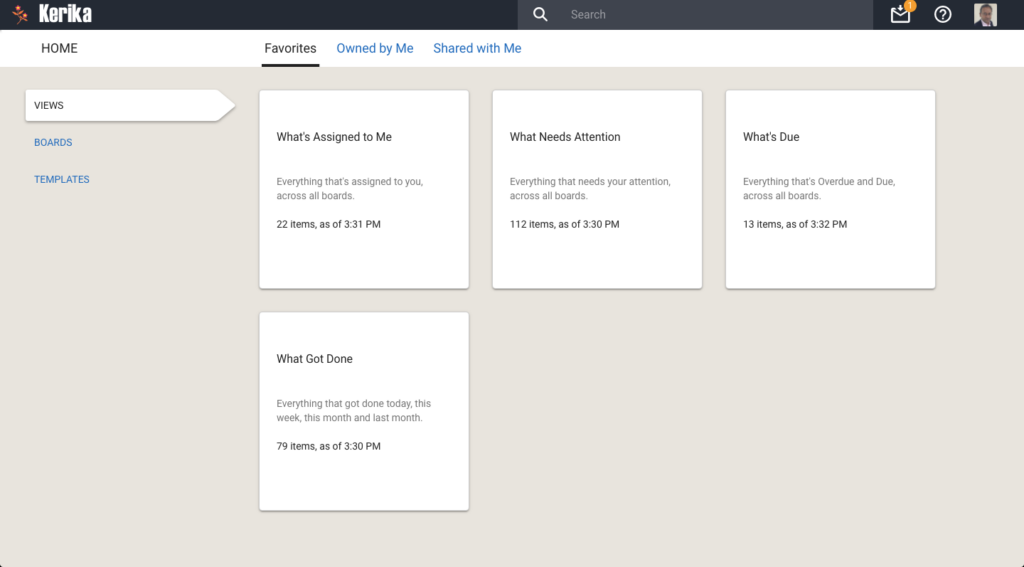 On each View card, Kerika shows how many items are included in that View, and as of when.  The Views are automatically refreshed when you open them, but in-between they are not updated because we do not expect the information shown to change on a second-by-second basis.
If you are worried that your View is out of date, you can update it by selecting it on your Home Page: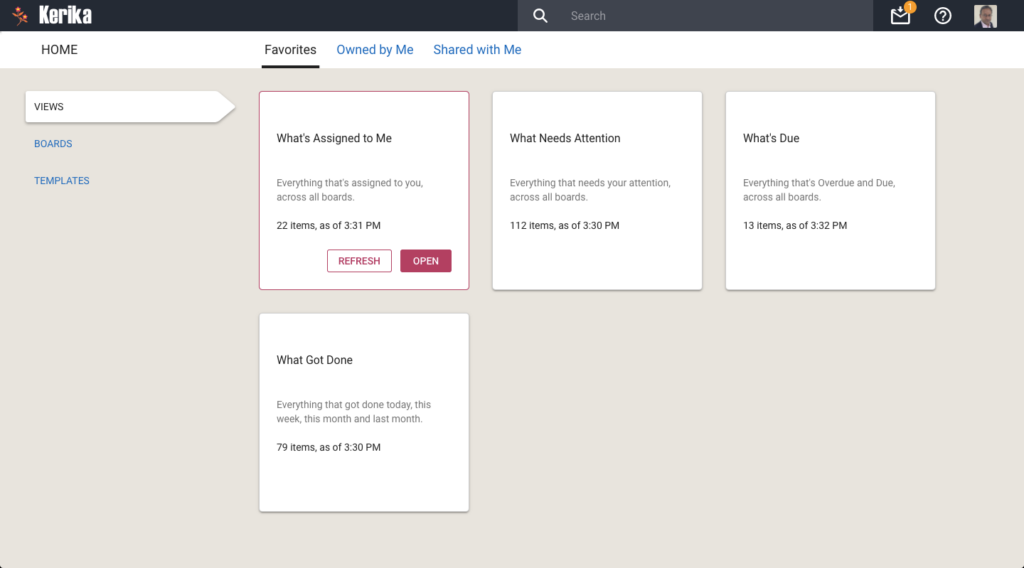 You can also update any View that you currently have open, by clicking on the Refresh button shown on the top-right of the View: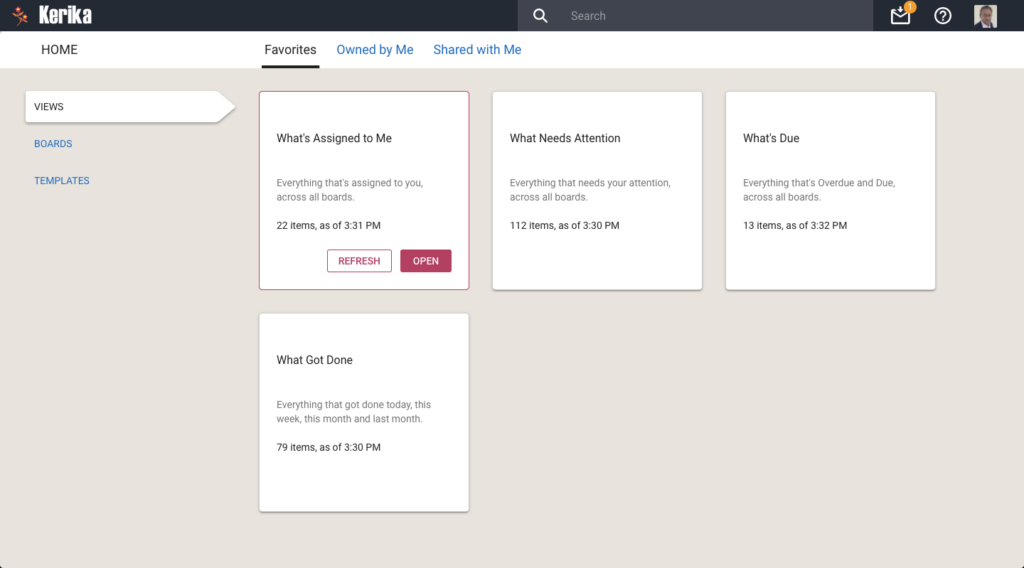 We will let you go crazy with these Views, for now. In the future we will add more (we already have some ideas on that front, but would love to hear from you as well!) and also add a Custom View capability.
Meanwhile, enjoy.